Mark Your Calendar!
August 20, 2017 - Picnic!
September 17, 2017 - Annual Meeting and Mini Swap Meet
November 4, 2017 - Annual Indoor Fall Swap Meet
See Calendar of Events for details of NARC's upcoming and past events.
Antique Radio Forum's Upcoming Radio Meet List
The Northland Antique Radio Club is having a picnic! We had a good time doing this last summer, so we're doing it again.
Pavillion #2 has been rented from 11:00 am until 4:00 pm, so this is a rain or shine event. It will be a potluck, so bring some sort of food to share. The club will provide pop, water, paper plates, and plastic silverware.
This will be a great time to socialize with other members and have some fun.
To make this especially interesting, don't bring an old radio. Bring something else that you collect! It'll be fun to see what everyone shows up with and maybe we'll all learn something new.
NOTE: Park rules prohibit selling stuff, so if you absolutely need to sell something please keep it inside the trunk of your car. No sales tables are permitted.
ANOTHER NOTE: You might find information online saying there is a $5/car charge, but we've been assured that this does NOT apply to this particular park.
See you there!
| | |
| --- | --- |
| Friday-Saturday May 19-20, 2017 | |
The Northland Antique Radio Club invites you to attend Radio Daze 2017, the Upper Midwest's ultimate vintage radio collecting event, and we are proud that both the Pavek Museum and the Antique Wireless Association (AWA) continue as supporting sponsors for the 31st consecutive year.
Last year's 30th anniversary meet was a total success, but we're doing our best to make this year's event even better. While the cost of living keeps going up, we've managed to hold all the rates the same as last year, including the hotel room rate, membership dues, registration fees, and auction fees. The auction, the swap meet, the contest and program, and seeing our radio collecting friends again, keeps us coming back. Radio Daze 2017 promises to be a meet you won't want to miss. Please mark May 19 and 20, 2017, on your calendar today!
Brochures will be mailed in early April to all known radio collectors in the five state area, plus to other vintage radio collectors from across the country who regularly attend this event. Local radio stations are being contacted and asked to make Public Service Announcements. Ads have been sent to AWA and other clubs, will be in some local newspapers, and will be on Craigslist and in several of the old radio forums online. We're doing our best for this to be one of the best Radio Daze events ever!
This year's schedule is almost entirely the same as in the past, with the auction of vintage radio equipment on Friday evening, and the swap meet, contest and program on Saturday, all at the Comfort Inn in Plymouth, Minnesota. The ONLY schedule difference is that the time allotted for entering items in the contest has been shortened to 45 minutes so Judging can get started a little sooner and won't run past the 1 pm Contest Viewing time.
As usual, please plan time on Friday or Saturday to drive over to the Pavek Museum to view the museum for free and check out their annual garage sale of excess radio items. The Pavek museum is located at 3517 Raleigh Avenue in St. Louis Park, Minnesota and will be open at 10:00 am sharp on both Friday and Saturday.
All other Radio Daze 2017 activities will be held Friday and Saturday, May 19-20, 2017, at the Comfort Inn Plymouth, located at the northwest corner of I-494 and Hwy. 55 in Plymouth, Minnesota. Room rates are still only $79.00 (plus tax) per night for either Double or King rooms, Thursday through Saturday nights. The Comfort Inn's reservation phone number is (763) 559-1222.
The meet kicks off with a large antique radio auction in the hotel main ballroom at 7:00 p.m. Friday May 19! We make this an entertaining auction and there will be a good variety of radios available. If you want to sell your radio(s) at the auction, check them in between 3:00 and 6:00 pm Friday. This auction is always well attended and is an inexpensive way to sell your vintage radios. There are no buyer or seller percentage fees and the only charge to sell is a flat $5 entry fee per item. Auction preview is 6:00 to 7:00 pm, and the auction starts at 7:00 pm. Auction details are in the brochure.
Saturday begins with the hotel parking lot swap meet in the morning. (Please note that the permit from the City of Plymouth does not allow any parking lot sales prior to Saturday morning.) The hospitality room will be open at 7:00 am with hot coffee and rolls. The registration room opens at 8:00 am. Item check in for the old radio contest will run from 11:00 am to 11:45 am, with viewing from 1:00 pm to 2:00 pm.
The radio contest includes equipment displayed from the earliest days of radio to the 1960's. The contest has some new categories as described in the Radio Daze 2017 brochure. A trip to the contest room always yields a surprise or two!
For Saturday lunch, NARC will offer a light lunch in the hospitality room, or a great meal can be had at Lucky's 13 Pub within the hotel. Several other restaurants are nearby, including Perkins, Jake's Sports Bar, and some fast food establishments.
The Saturday program begins at 2:00 pm and includes opening comments, contest awards, door prizes, and a featured speaker. This year's speaker will be our club president and long-time curator of the Pavek Museum, Steve Raymer. Steve has used all the museum's resources, along with his vast knowledge of radio in Minnesota to prepare a presentation about the History of Broadcasting in Minnesota. This will be a significant program that you would not want to miss!
Click here ( 2001 / 2002 / 2004 / 2005 / 2007 / 2012) to see photos from previous years!
Registration is required for admittance to all indoor events, the Hospitality Room, the Pavek Museum, and to sell items in the parking lot. Registration is encouraged, but not required, for anyone just attending the auction or buying at the swap meet. You can pre-register (and save $3.00) by returning a registration form before May 12th. After you arrive, please pick up your name badge and other materials in the Registration Room.
WORKSHOP AND OUTDOOR MINI-SWAP MEET
Back by popular demand! For the 30th consecutive year, Steve Raymer is hosting another Radio Workshop, free for NARC members and Pavek Museum sponsors. Every year we get together to share what we know, or think we know, about anything related to restoring vintage radios and related items. Whether you work on your own radios or not, you'll enjoy the workshop!
Weather permitting, there will be trunk sales outside in the parking lot before the workshop, so bring whatever you want to sell and maybe you'll find something to buy too. If you don't find anything to buy outside, when the museum doors open at around 11 a.m., there will be surplus items marked for sale in the museum warehouse area. Snacks, soft drinks and coffee will be provided and it is a great time to browse around the museum and socialize with the other collectors. The workshop starts at 12 noon and includes talks on a wide variety of topics, so everyone should find it interesting and entertaining.
A few topics for this year are, briefly, and in no particular order, Bill Williams will talk about restoring a 1940s Pilot 3-inch television and Matt Hyman will talk about repairing printed material. Steve will show us how to measure amplifier distortion and is asking for everyone with a stand-alone amplifier to bring your amplifier along so he will have a variety of amps to measure and compare.
Also there will be a Radio Show & Tell similar to what we did last year with phonographs! Bring a radio that you've never seen another of to the Radio Show & Tell. Everyone enjoys seeing radios they haven't seen before, so let's show them and maybe we'll learn some things about them too.
Please call Steve (952-926-8198) if you would like to talk or demonstrate something at the workshop.
NARC FALL INDOOR SWAP MEET
Saturday November 5, 2016
(Open to the public 8:30 am to 1:00 pm)
1200 Oakdale Avenue, West St. Paul, Minnesota
Table rentals, admission tickets and membership renewals will all be handled at the meet. The rules are the same as in recent years.
Those who register and pay for a seller table (tables, provided by the school, are $10 each) will be admitted at 8:00 AM, allowing them time to haul in merchandise and get set up. Due to the limited number of tables available, only paid NARC members will be allowed to set up and sell. You can join or renew your $12 yearly membership at the meet.
Note: Sellers will have to carry their items a short distance to the swap meet area, so bring a hand truck or small cart if you have anything heavy. The school requests that you please use extra care not to mark the floors with your hand cart and please bring a protective covering for the table.
By 8:30 AM when the buying public is allowed in, there is usually a good crowd waiting and things get busy fast. Admission is FREE for NARC members and only a dollar for non-members. You can expect to find typically 30-35 tables full (plus overflow onto the floor) of vintage radios, speakers, test equipment, literature, tubes, parts and other related items. Free coffee and snacks will be available in the morning, and a lunch of hotdogs, cookies, chips, and pop will be offered later in the morning for three bucks.
Silent auction items will be accepted until noon when the auction ends. Sellers can set a minimum bid, there are no fees, all items are being sold 'as-is', and all settlements take place directly between the buyer and seller. High bidders and owners MUST stay until noon to complete their transactions. NARC is simply providing the means for the auction and assumes no responsibility for seller or buyer actions.
We have the room until 1:00 pm and expect the meet will probably start winding down around noon, giving sellers an hour to pack up.
This is a great chance to liquidate radios you no longer want, and to mingle with fellow club members. See you there!
NARC 2016 Annual Meeting Report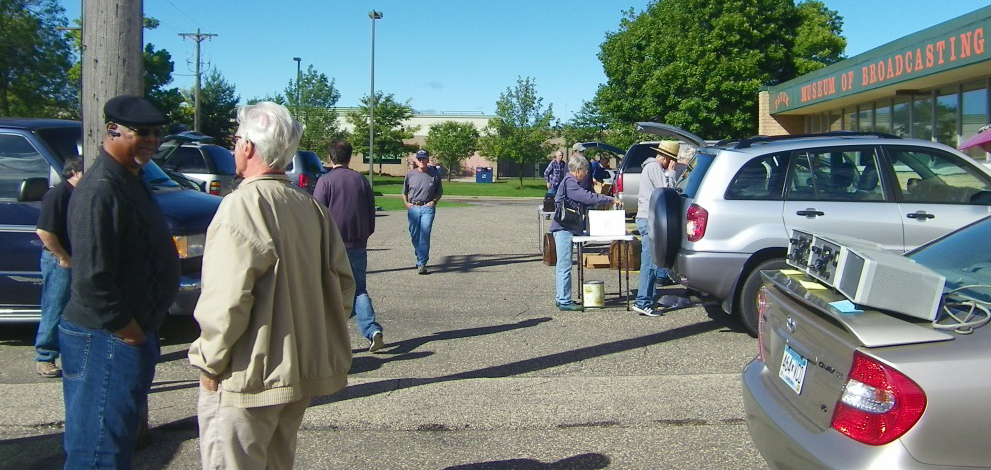 September 25 was a beautiful day and the Pavek Museum parking lot was buzzing with activity. NARC members were arriving early for the 2016 annual meeting to buy and sell some radios before the meeting started. A few things I took special notice of were a Zenith Waltons radio that sold, a Radiola Grand battery set, a large Philco cathedral model 90 or 70, a Northome Minnesota-made battery radio, a Zenith Transoceanic portable, lots of 1930s and 40s plastic and wood cabinet radios, and lots of parts.
Steve Raymer had another nice selection of surplus items for sale in the museum's back room, including some free consoles, so there was quite a bit of activity back there. Kip Wallace brought snacks for everyone again and we want to thank him for continuing to do this every year, especially since he's just doing it until we find a new person to officially be responsible for hospitality at our events. (Please volunteer to help!)

Steve ran the meeting and started by announcing that he will be retiring from the Pavek Museum in the near future and that he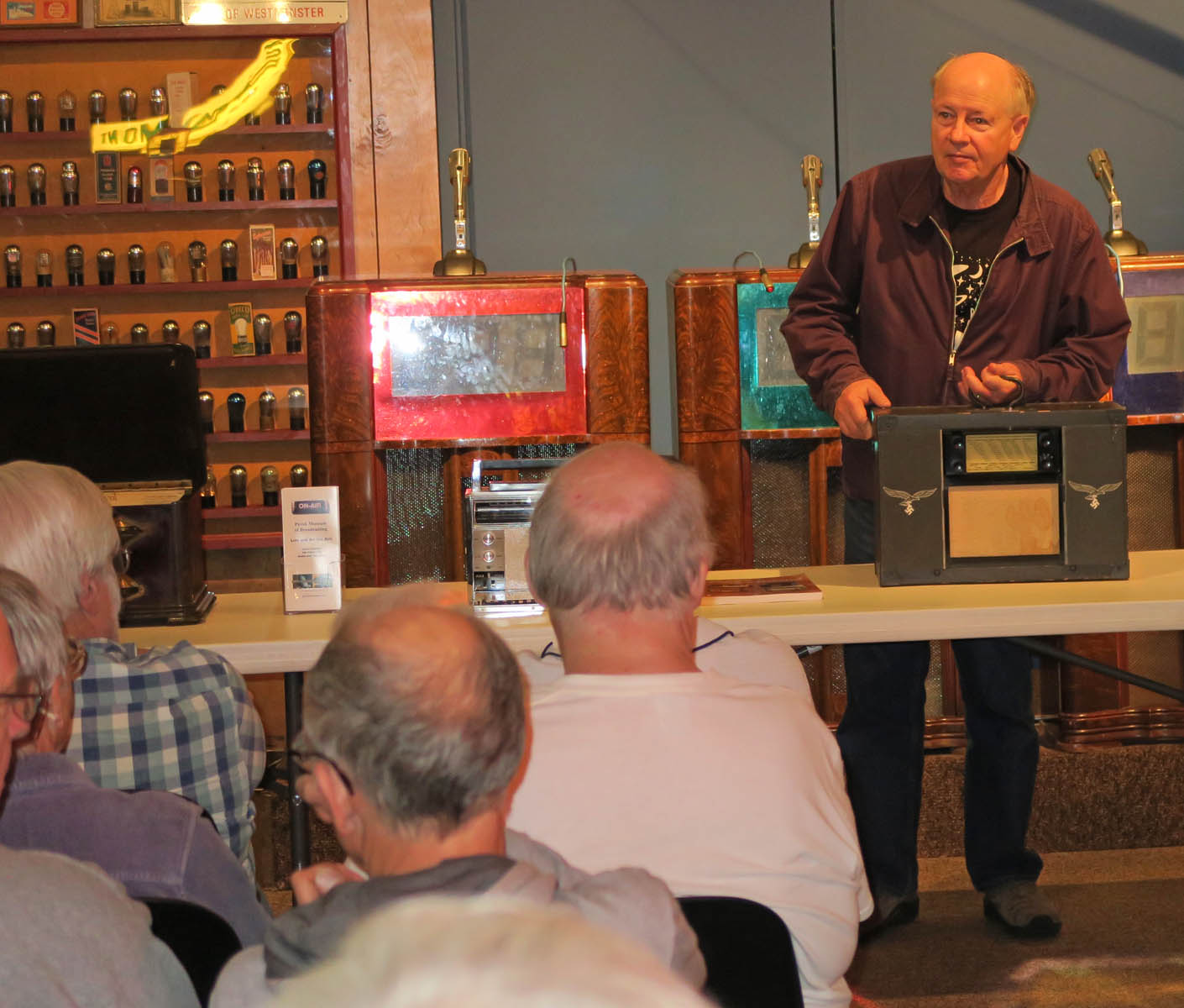 will also step down as NARC President after the upcoming year. It sounds like he will still be working at the Pavek part time and will run the Workshop in February as usual.
Please contact Steve if you want to demonstrate something at the Workshop this winter so he doesn't have to worry about putting the program together at the last minute!
Greg discussed NARC 2015-2016 finances and indicated the bank balance is up about $300 over last year. NARC membership for 2016 was 172, up 10 from the previous year. Greg also reported that all officers from this past year are re-elected to the same positions for the 2016-17 club year.
Jim Thompson reported that the Hotel fees for Radio Daze next May will remain the same even though the hotel has a new sales manager. Some very complimentary comments were made about how good our meet is in some ways as compared to other meets around the country. Radio Daze 2016 had a very good auction, attendance was up, the number of parking lot sellers was up, the contest was excellent, the program was maybe the best we've had, and the weather was nice too! May 19-20, 2017 is reserved for Radio Daze 2017.
Matt Hyman reported that the picnic in August was a success and he plans to organize another one next summer.
The final item on the agenda was 'Finds of the Summer.' Matt Hyman had found a nice maroon and white Setchell Carlson model 416 plastic radio made in New Brighton, Minnesota. Glen Berg had found a deal on a Grebe Synchrophase battery radio in very nice original condition. Steve Granger showed his Zenith Transoceanic model 3000-1, and Steve Raymer showed the museum's Siemens model K32GWB Nazi German radio that they recently acquired. A big thanks to all of you for sharing!
| | |
| --- | --- |
| NARC Annual Meeting and Swap | |
The 2016 Northland Antique Radio Club annual meeting is scheduled for 12:00 noon on September 25th at the Pavek Museum, located at 3517 Raleigh Ave., St. Louis Park, Minnesota.
An old radio swap meet will be held in the parking lot from around 10-11:00 am, preceding the annual meeting, as usual. This is typically a small swap, with 10 to 15 vendors. It is FREE for sellers to set up a table by their car, and there is no registration required, so please bring some old radio stuff to sell! The museum doors will open around 11:00 am, giving everyone some time to check out what's for sale in the museum's back room or to wander around the museum and to visit with the other collectors before the meeting starts.
Promptly at 12:00 noon the meeting will begin inside the museum with Steve Raymer providing the president's view on how things went over the last year. Jim Thompson will recap of how the May event went and Greg Farmer will give a brief financial report and announce election results.
The current officers have all agreed to run again and are on the ballot enclosed with this newsletter. If other club members are interested in being an officer, they can write in their name. The term of office will be October 1, 2016 to September 30, 2017. Running for office are: Steve Raymer as NARC president, Glen Berg and Alan Jesperson as Vice Presidents, Greg Farmer as Secretary and Mary Farmer as Treasurer. Please take time to fill out and send in the officer ballot with your annual dues.
Please bring along a radio that you found this past summer and let us see it! It's always fun to see what NARC members have found at flea markets, auctions, estate sales, garage sales, or wherever. Prizes will be awarded this year to the best 'Find'. This is always an enjoyable event with good participation.
Remember this event is FREE for all current and renewing members!
NARC Picnic Report
by Matt Hyman
I arrived at River Front Park in Fridley at about 11:30 am. The festivities were already under way and there was a lot of great food to choose from. Fried chicken, potato salad, pasta salad, bags of chips, cold pop and water and a cake celebrating NARC's 30th year was brought in.
We all mingled for a while and had lunch before I got the ugly radio contest going. There were seven entries.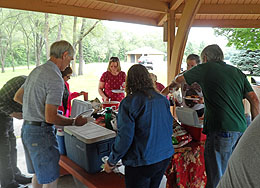 The crème de la crap was brought in. I brought in a Stromberg Carlson table radio with peeling veneer. Other entries included a battery portable from the 1950s, a Winston Cigarette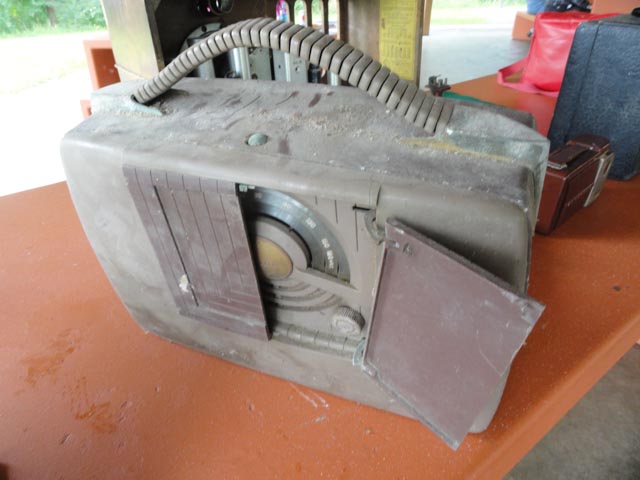 cooler radio (not only ugly, but politically incorrect - woo hoo!), a home brew crystal set, a Motorola transistor and an RCA plastic tube table radio with nice melted corners. The radios were numbered with post-its and the votes were cast with the same post-it notes (not high tech, but it worked). Kerry Johnson's beat up battery portable got the most votes. Richard Skroch's cooler radio took second and Ib Johnson's Motorola took third.
Tom Sargent came a little later and brought a Thorens Portable Camera Case Phonograph that he recently found. It looked like new. He played a novelty whistling record and an Ella Fitztgerald hit on the unit. It sounded good for the size of the player.
The weather cooperated. It was overcast when we started, but got sunny and a little humid later on. We all had a nice time and wrapped it up around 2:15. It was the first picnic in twenty-three years. I plan on arranging another such event next year and hopefully it can become an annual NARC event once again.
Thanks to everyone who participated in the picnic, bringing great food and showing off the worst of their collections!
RADIO DAZE 2016
IN REVIEW
This year's Radio Daze event, the 30th Radio Daze hosted by our club, was one of the best ever. The weather was beautiful, attendance was up, a great selection of radios was sold at the auction, the number of swap meet vendors was up, Steve Raymer reports that sales were great at the Pavek Museum of Broadcasting garage sale, the contest had many great items, and Bill Hudson proved to be a fantastic guest speaker at the program
The large conference room at the Comfort Inn in Plymouth Minnesota was a busy place by 3pm Friday as 34 collectors consigned 174 lots of vintage radios and other related items to the auction. Thanks to Lynn Wagar, Kim Wagar, Mary Farmer, and Don Hauff everyone got their bidding numbers and pre-registration packet, and all the consignments were properly logged in by the 7:00 pm start time. The room was filled with people, including 98 registered bidders, and the tables along the walls were filled with radios, box lots of radio parts, and lots of other interesting things.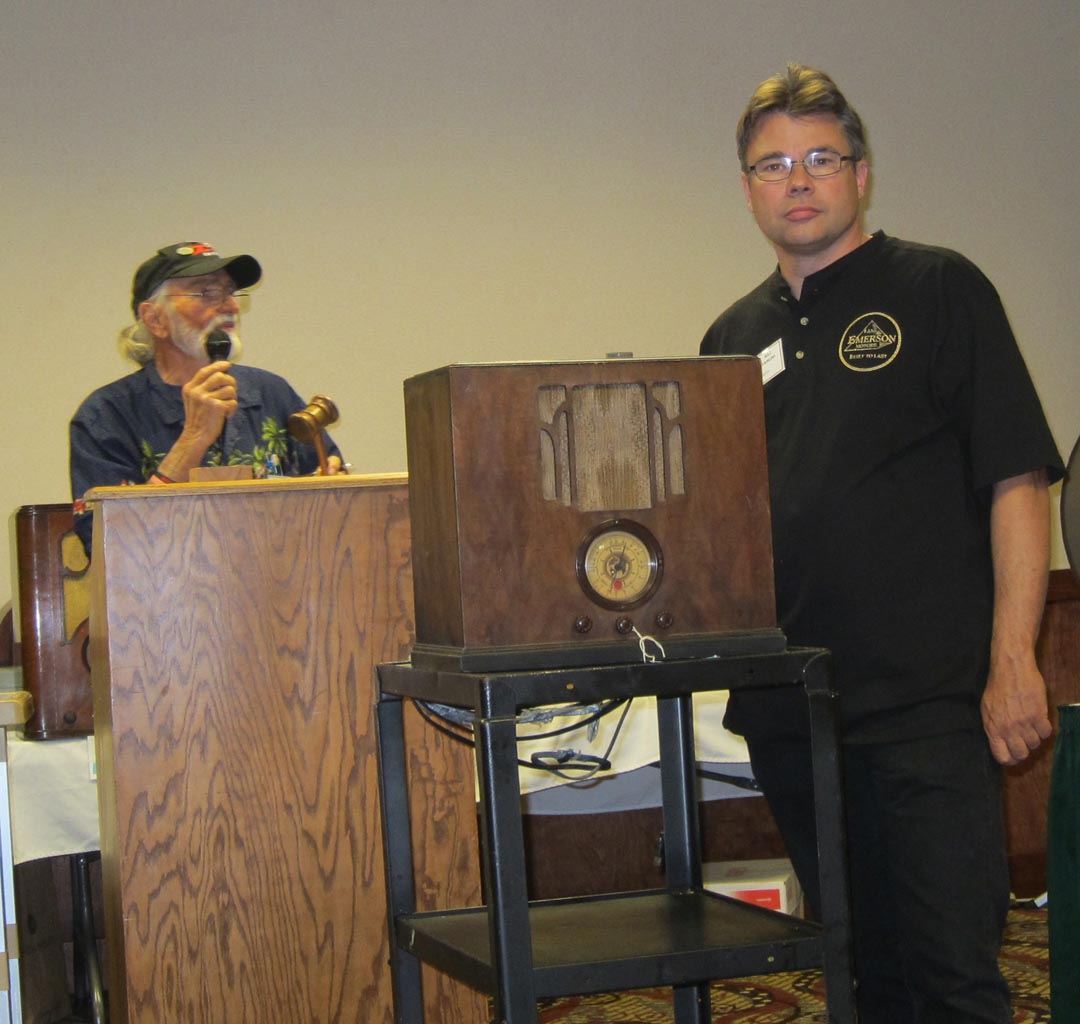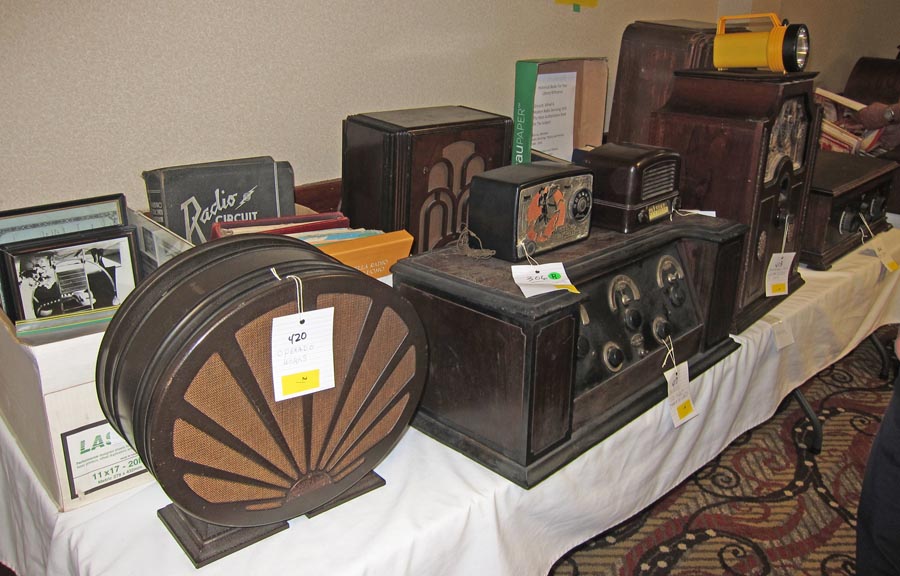 Frank Rasada, wielding the gavel for the sixth consecutive year, made the auction entertaining and his knowledge of vintage radios makes him perfect for the job. Jim Thompson, Kip Wallace, Bill Fanum, Matt Hyman, Bill Linder, Jeff Hed, and Glen Berg were the auction assistants, bringing items up front, describing them to the crowd and spotting bids.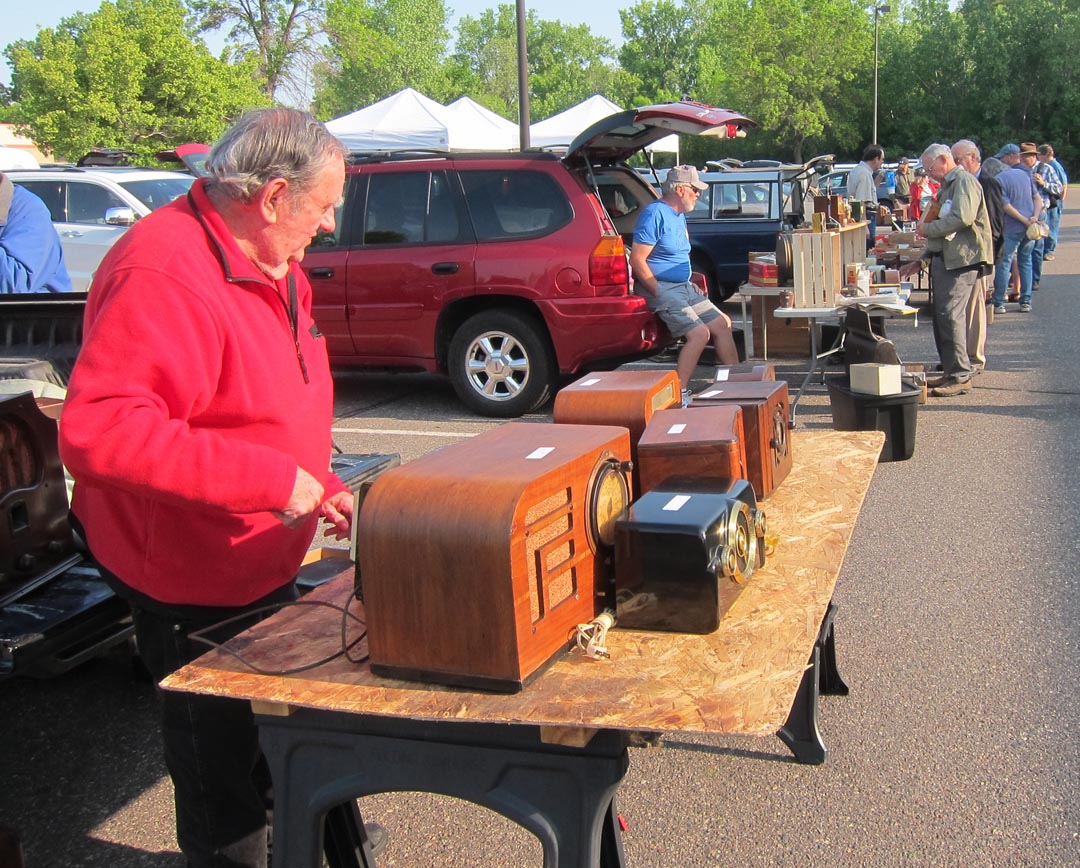 Sales in the parking lot the next morning were great! 51 seller spaces were sold and there was a wide variety of things to buy. Inside, Lynn and Kim Wagar, Pam Orth, and Kip Wallace manned the Hospitality Room and offered a great selection of free donuts, coffee and soft drinks, while Mary Farmer was handling registrations in the next room. The Hospitality crew also offered a crowd pleaser lunch of hot dogs, chips, cookies and canned and bottled drinks, a bargain for $3. Great job!


Wow! This year's contest had 24 participants! Not only is that impressive, but they entered an impressive selection of the best radios from their collections for the rest of us to see. THANK YOU for making this a great contest! I get comments every year from people saying that the contest is their favorite part of Radio Daze, and it's because it's where they can see things they've never seen before.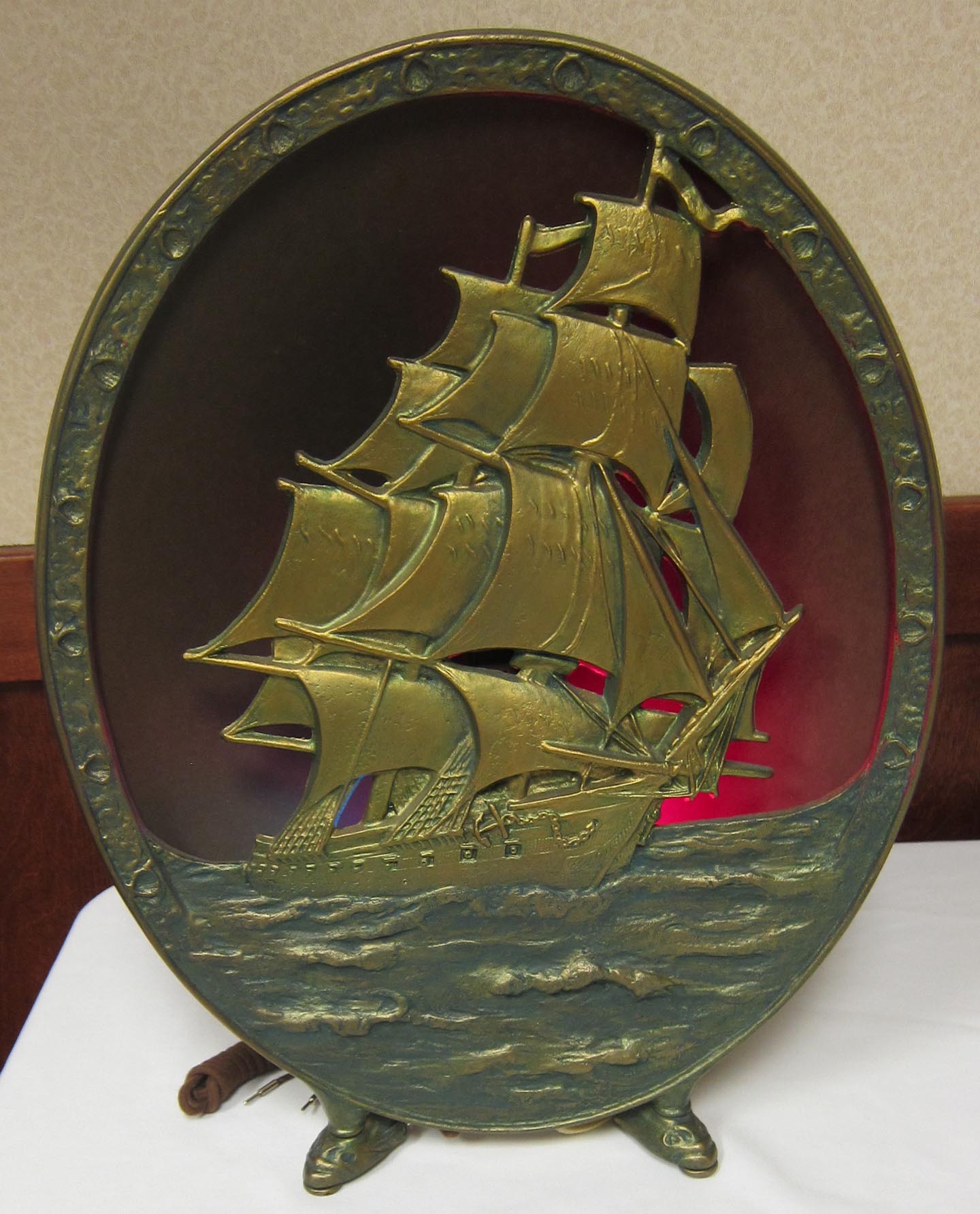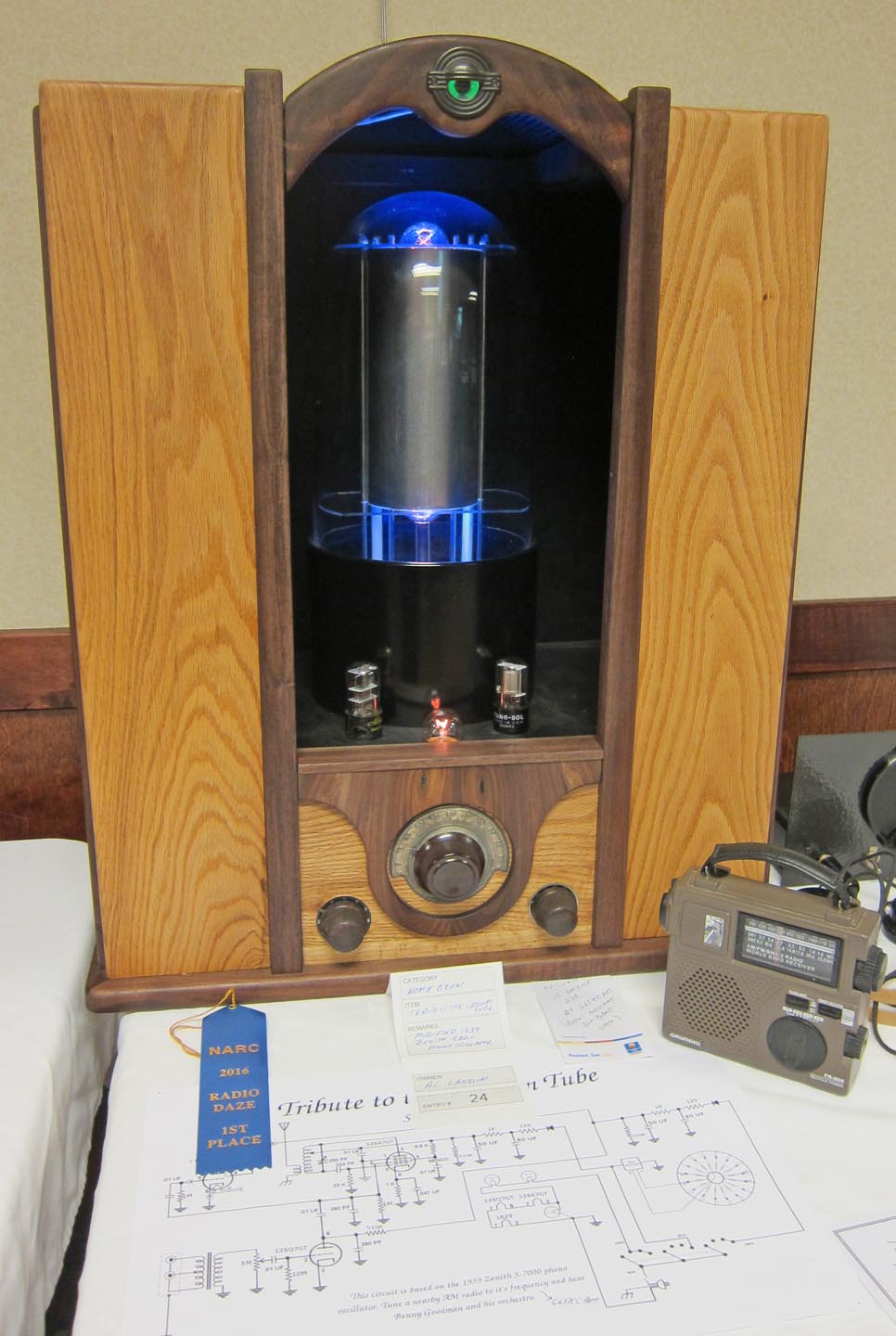 The Best of Show award went to
Sam Luscomb
's O'Neil model LS-19 lighted ship speaker and the People's Choice award went to
Al Landin
's
Tribute to Vacuum Tubes
homebrew radio transmitter. Sam's O'Neil speaker is an extremely rare and attractive 1920s radio cone speaker, as shown on the front cover of this newsletter. Al's
Tribute to Vacuum Tubes
shows outstanding creativity and workmanship, and not only looks like an old Zenith radio with a big blue tube in it, but it actually contains a Zenith phono oscillator and was transmitting Big Band music to other radios in the near vicinity tuned to 665kc! Congratulations to Sam and Al for winning the top prizes in this very competitive contest!
CBS/WCCO television broadcast journalist
Bill Hudson
was this year's guest speaker and his presentation offered insight into the evolution of reporting in the last 40 years and his experiences in the business. It was a very entertaining program! Thanks also to
Bill Fanum
for providing a great audio system for this presentation.
Thanks to the
Kip Wallace
family,
Mary Farmer
,
Pam Orth
, and
Michaela Whitney
for another great door prize drawing. Also, a special thanks to everyone who helped with making Radio Daze possible, and especially to
Jim Thompson
and
Kip Wallace
who coordinated the entire event. See you next May 19-20 at Radio Daze 2017!
Every once in a while Mother Nature gives us a nice day for the February outdoor swap meet, and with temperatures up to around 35 degrees, she sure did a good job this year. The outdoor swap meet offered a nice selection of old radios and other items for sale, many at bargain prices.
At a little before 11 a.m., the door to the museum opened, allowing everyone to bring their old phonographs, radios, and other items for the program inside. The museum storage room was a busy place with quite a few of their excess items marked for sale. Kip Wallace brought and set up snacks and refreshments for everyone in the Minnesota Room, and we all owe him a big THANK YOU for volunteering to do this in the absence of anyone else stepping up to help with hospitality. We had about an hour to socialize and had a good crowd there snacking before the meeting started at noon.
Steve Raymer did another amazing job of putting together a variety of presentations that ensured there was something of interest for everyone. First up was Jim Thompson, Radio Daze coordinator, who gave a brief progress report on the plans for Radio Daze 2016. Then, Steve briefly explained a new Speaker Impedance Tester and an Output Transformer Tester, both designed by NARC member Allen Lein. These can be seen at the Pavek Museum's webpage: The Wonderful Test Equipment of Allen Lein.
Glen Berg demonstrated how to make large paper cones for 1920s radio speakers, including various methods for decorating a cone similar to the fancy printed decoration sometimes seen on the original cones. One method was to put use a piece of lace as a mask on the cone and then lightly spray paint on the cone, so a decorative pattern was left after the lace was removed. Glen also showed how to use a Growler to magnetize a speaker magnet.
Ken Ladd talked about various unique radio projects he has built, and then Gary Ball gave an in-depth presentation about his only vintage radio interest, Zenith transistor radios. This was a very interesting presentation since he covered many Zenith models in great detail. Gary also has a very informative website for anyone interested in transistor radios: Gary's Radios.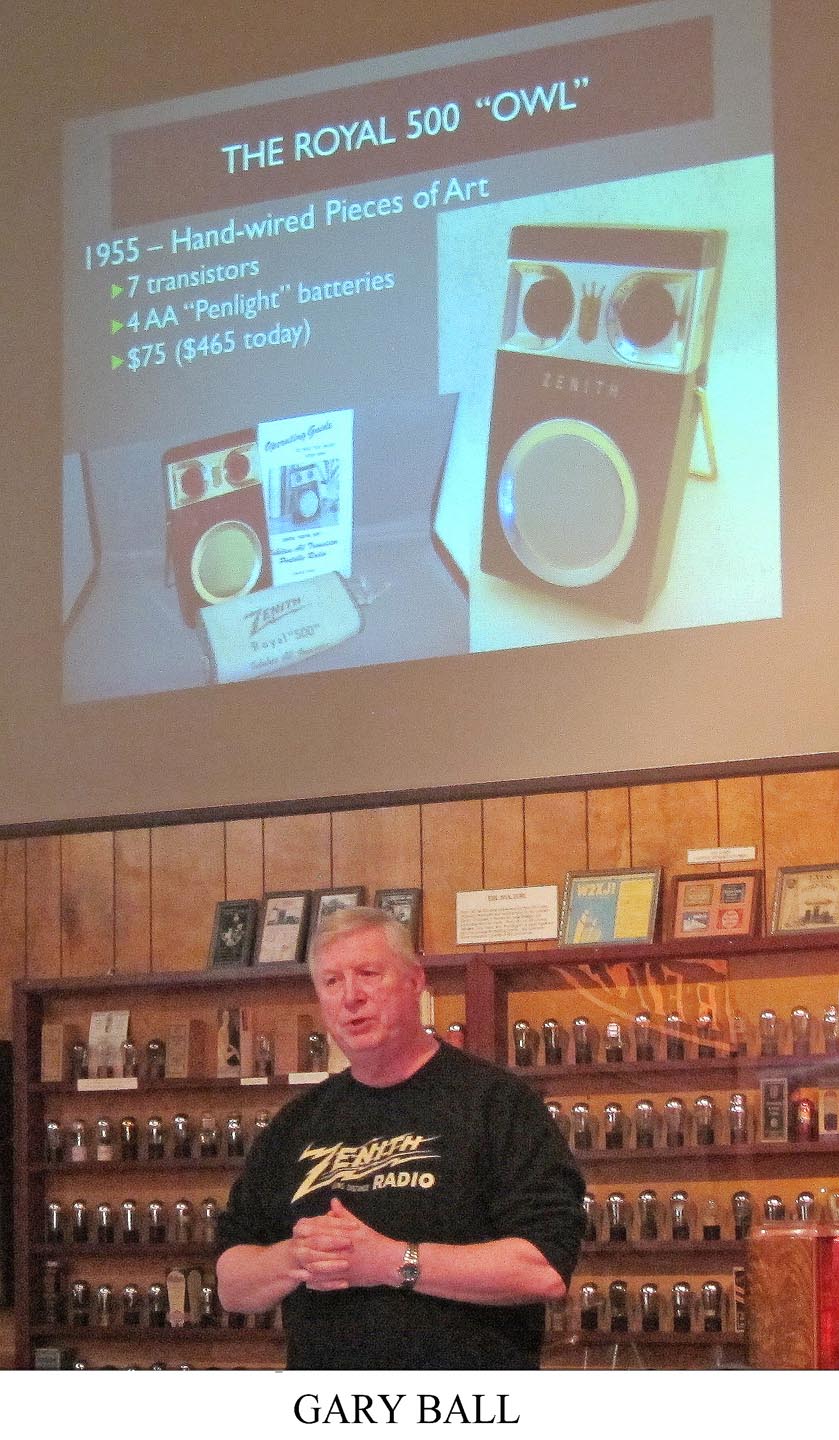 A highlight of the workshop was a display of member's phonographs. Most of us also collect other things besides just radios, and many of us have phonographs since they are closely related and many times are combined with radios in the same cabinet. About 20 phonographs were displayed and Steve had each owner say something about their phonograph. Some of the phonographs were a 1938-42 blue Thorens Excelda that looked like a collapsible camera, a white streamlined Arvin model 302, a 1927 Silvertone Cecilian portable, a 1984 Panasonic SG-J500 boombox with built-in turntable, a 1983 portable Sony PS-F5 Flamingo with linear tracking, a Capitol Phono-Lamp owned by the Pavek Museum, a 1948 Columbia LP phonograph, a late 1920s Herschel Gold Seal 78-rpm phonograph with a Herschel Gold Seal record made by Gennett, a Columbia Q cylinder phonograph, a Gakken modern old-time plastic kit disk phonograph that plays 33, 45, and 78 rpm records, a 1926 Mikiphone that collapses into a small camera-looking form, a 1920s Peter Pan that looked like an old-time box camera, a Columbia Grafonola, and Edison Amberola 30 cylinder phonograph, and several RCA bakelite 45-rpm players.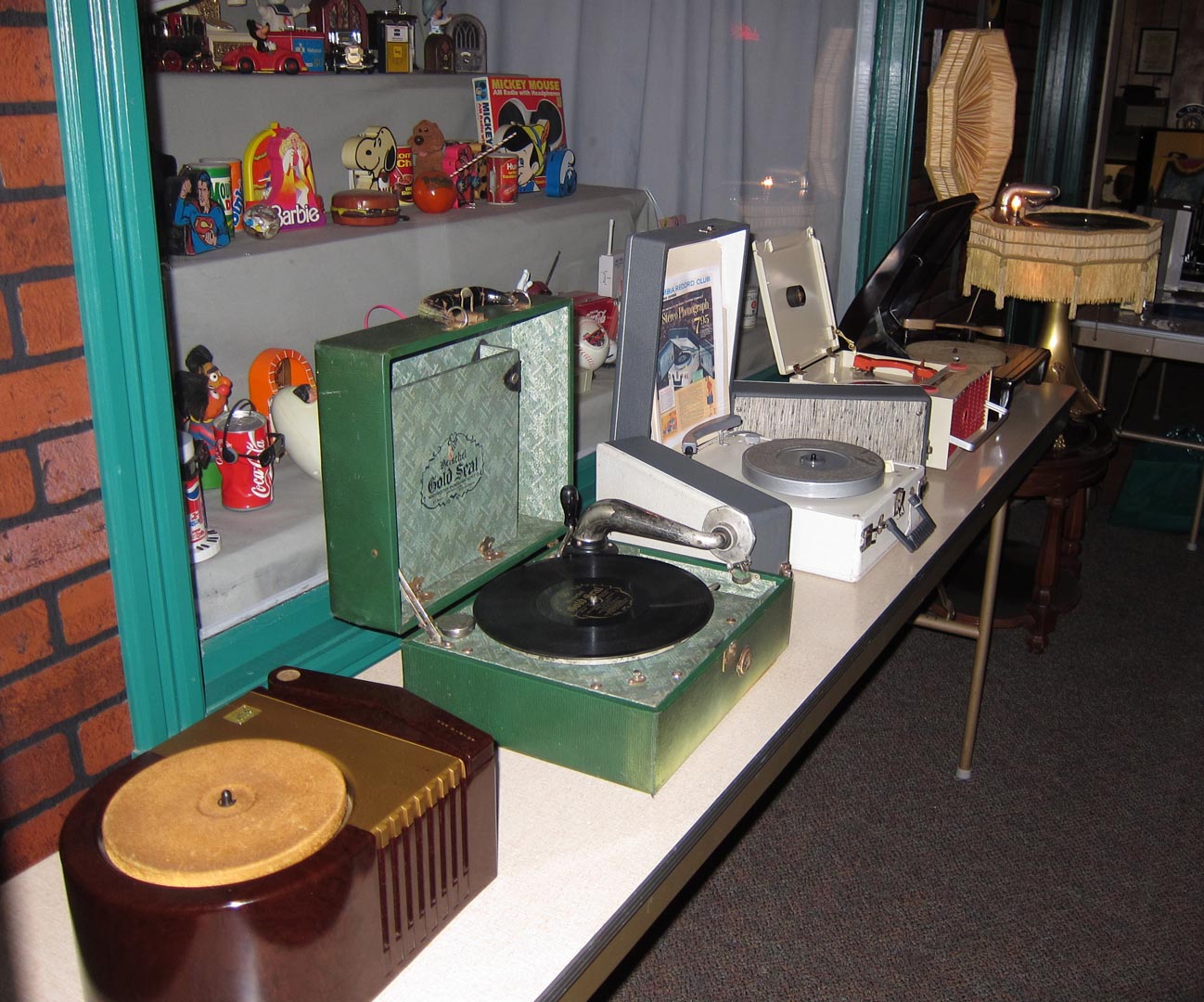 Photos of more phonographs, along with more details of all the presentations, can be seen at the Pavek Museum webpage: The 2016 Radio Workshop.
Thank you to everyone who gave a presentation and to Steve for all the work he does organizing the workshop every year.
NARC FALL SWAP MEET REPORT
Saturday November 1, 2014 at St. Croix Lutheran High School
It's always fun to wrap up a summer of swap meets, flea markets, garage sales, and auctions with one final chance to buy or sell some old radios before the holiday season. That happened on November 1, 2014 at the annual NARC Fall Indoor Swap Meet where a good quantity of old radios exchanged hands in St. Croix Lutheran High School's cafeteria!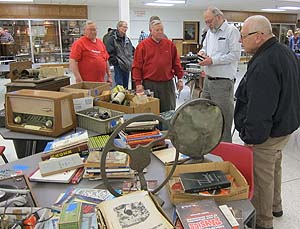 By the time the doors opened at 8:30 am, a line of buyers was waiting to get in and the sellers were set up and ready. About 30 tables were full of radios of all sorts, magazines, tubes, some phonographs and records, TVs, audio equipment, and other related items. Mary Farmer handled registration and also had a hospitality table set up with donuts, coffee, and soft drinks ready for us!
Activity was especially busy for the first hour and there was a wide variety of items for sale, as in past years. Some highly collectible early battery sets seen included a Radiola Grand, Super Zenith VII, and a Crosley Pup.
At 10:30, Mary opened the lunch counter. For $3 you could buy a nice lunch consisting of hot dogs, cookies, chips and pop. Not a bad deal. The Silent Auction had some things entered that sold at bargain prices. The drawing was at noon, and everyone cleared out shortly after that.
It looked like everyone had a good time!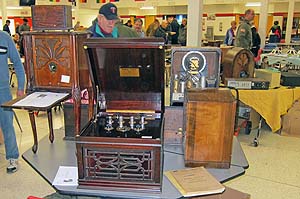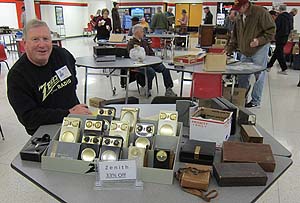 Check out NARC's online list of members having email addresses or websites. This list now contains about 70 members and their interests!
---