Every once in a while Mother Nature gives us a nice day for the February outdoor swap meet, and with temperatures up to around 35 degrees, she sure did a good job this year. The outdoor swap meet offered a nice selection of old radios and other items for sale, many at bargain prices.
At a little before 11 a.m., the door to the museum opened, allowing everyone to bring their old phonographs, radios, and other items for the program inside. The museum storage room was a busy place with quite a few of their excess items marked for sale. Kip Wallace brought and set up snacks and refreshments for everyone in the Minnesota Room, and we all owe him a big THANK YOU for volunteering to do this in the absence of anyone else stepping up to help with hospitality. We had about an hour to socialize and had a good crowd there snacking before the meeting started at noon.
Steve Raymer did another amazing job of putting together a variety of presentations that ensured there was something of interest for everyone. First up was Jim Thompson, Radio Daze coordinator, who gave a brief progress report on the plans for Radio Daze 2016. Then, Steve briefly explained a new Speaker Impedance Tester and an Output Transformer Tester, both designed by NARC member Allen Lein. These can be seen at the Pavek Museum's webpage: The Wonderful Test Equipment of Allen Lein.
Glen Berg demonstrated how to make large paper cones for 1920s radio speakers, including various methods for decorating a cone similar to the fancy printed decoration sometimes seen on the original cones. One method was to put use a piece of lace as a mask on the cone and then lightly spray paint on the cone, so a decorative pattern was left after the lace was removed. Glen also showed how to use a Growler to magnetize a speaker magnet.
Ken Ladd talked about various unique radio projects he has built, and then Gary Ball gave an in-depth presentation about his only vintage radio interest, Zenith transistor radios. This was a very interesting presentation since he covered many Zenith models in great detail. Gary also has a very informative website for anyone interested in transistor radios: Gary's Radios.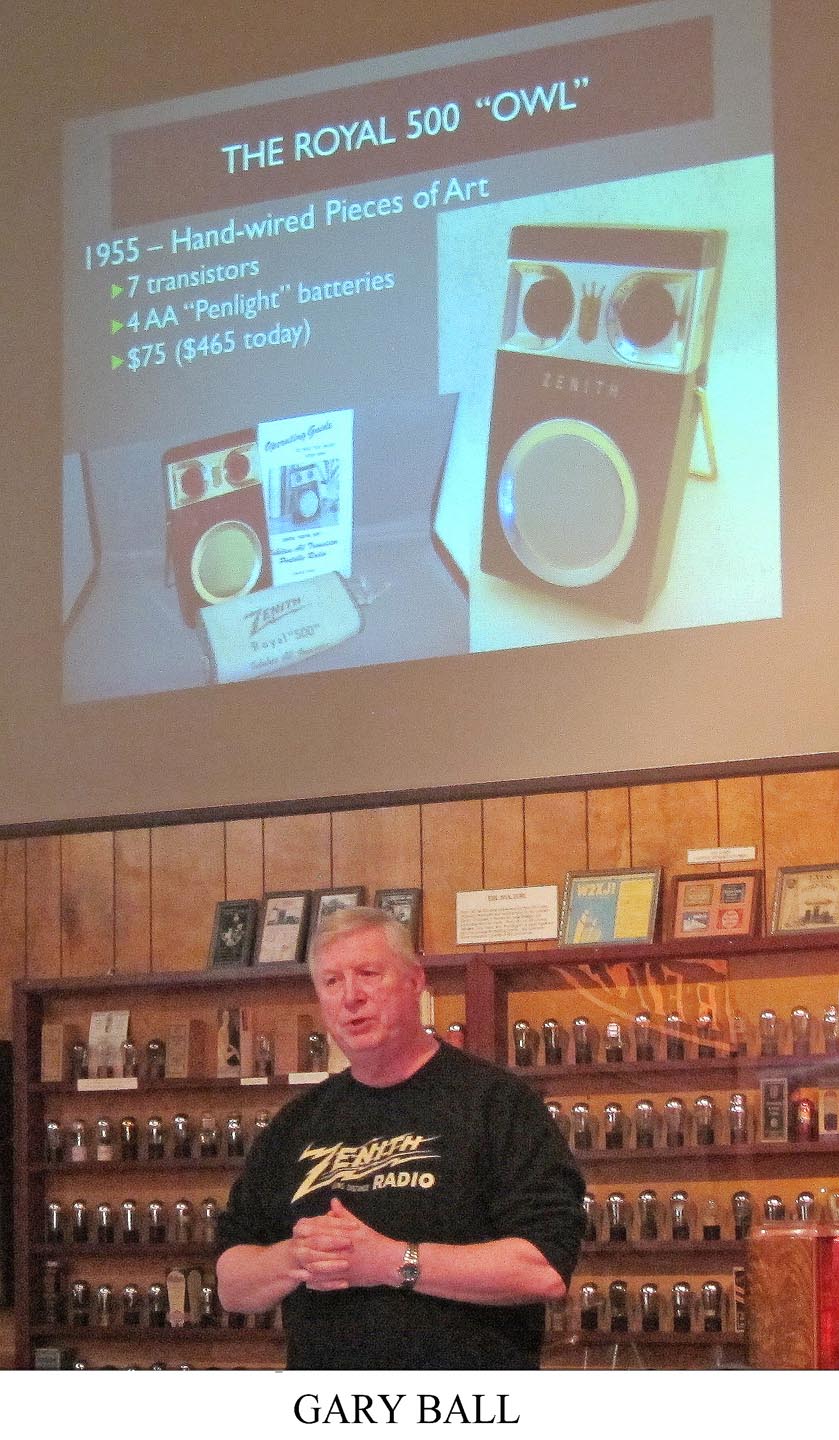 A highlight of the workshop was a display of member's phonographs. Most of us also collect other things besides just radios, and many of us have phonographs since they are closely related and many times are combined with radios in the same cabinet. About 20 phonographs were displayed and Steve had each owner say something about their phonograph. Some of the phonographs were a 1938-42 blue Thorens Excelda that looked like a collapsible camera, a white streamlined Arvin model 302, a 1927 Silvertone Cecilian portable, a 1984 Panasonic SG-J500 boombox with built-in turntable, a 1983 portable Sony PS-F5 Flamingo with linear tracking, a Capitol Phono-Lamp owned by the Pavek Museum, a 1948 Columbia LP phonograph, a late 1920s Herschel Gold Seal 78-rpm phonograph with a Herschel Gold Seal record made by Gennett, a Columbia Q cylinder phonograph, a Gakken modern old-time plastic kit disk phonograph that plays 33, 45, and 78 rpm records, a 1926 Mikiphone that collapses into a small camera-looking form, a 1920s Peter Pan that looked like an old-time box camera, a Columbia Grafonola, and Edison Amberola 30 cylinder phonograph, and several RCA bakelite 45-rpm players.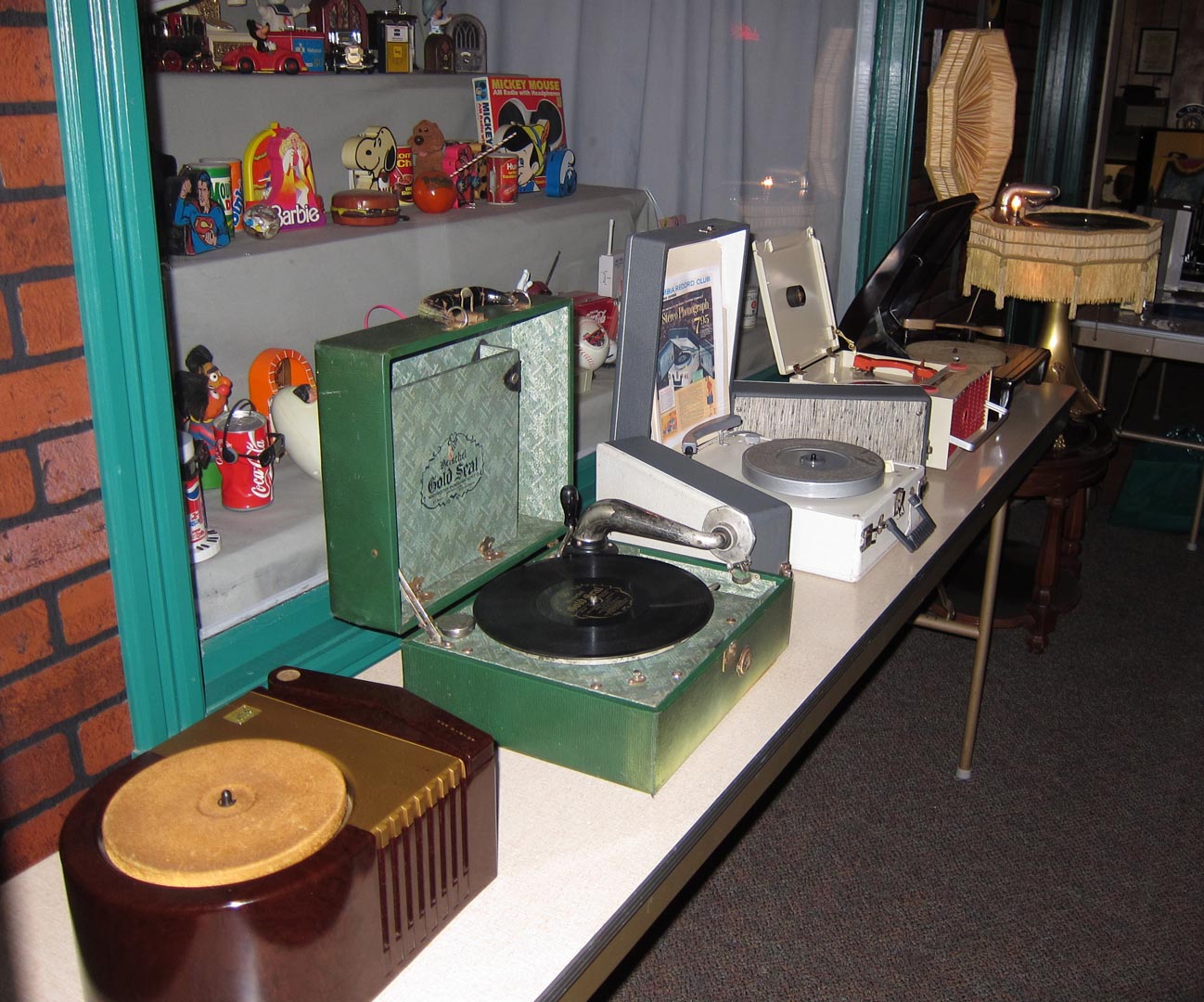 Photos of more phonographs, along with more details of all the presentations, can be seen at the Pavek Museum webpage: The 2016 Radio Workshop.
Thank you to everyone who gave a presentation and to Steve for all the work he does organizing the workshop every year.