WORKSHOP AND MINI-SWAP MEET REPORT
Although the temperature outside was even lower this year than last year, and only a few hardy members braved the numbing cold in an attempt to sell their wares, this will go down as one of the best NARC workshops ever.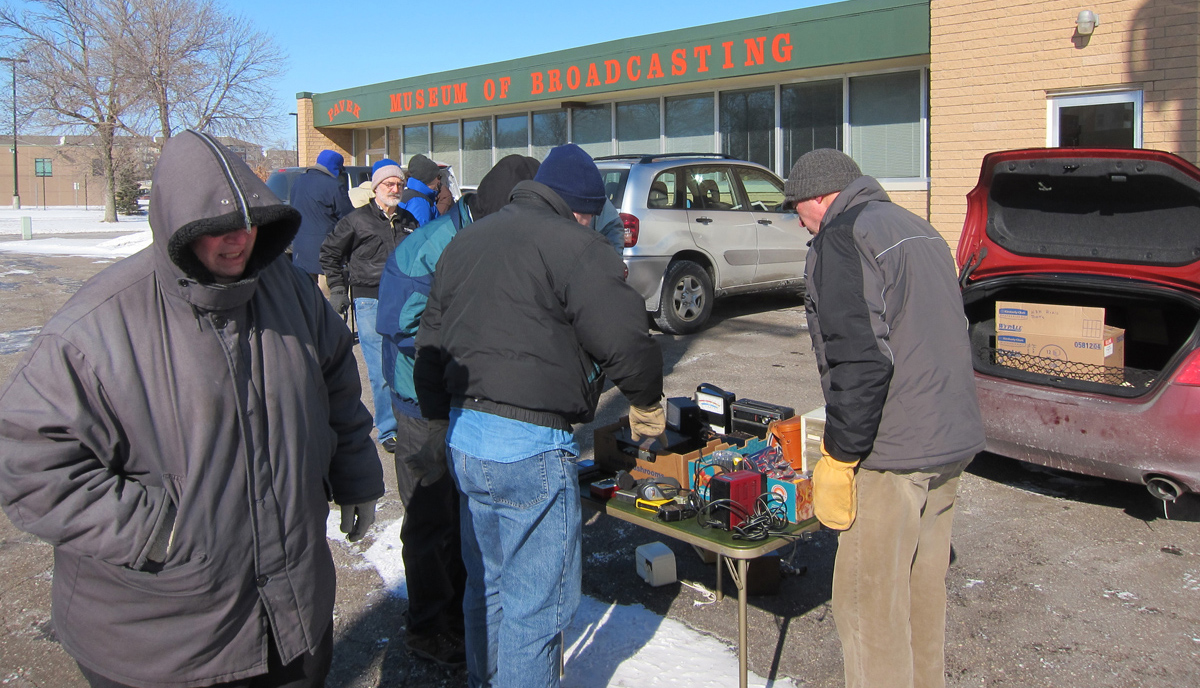 We had about an hour after the museum doors opened to see what was for sale in the storage room and to socialize. Luckily for all of us, Kip Wallace had volunteered to bring snacks, soft drinks, etc., and had a good crowd there munching before the meeting.
Steve Raymer brought together a great assortment of presentations that were filled with ideas of how to do all sorts of things. First up was Jim Reynolds, owner of Custom Recording Studios in Minneapolis, and a long-time NARC member. Jim talked a little bit about pop filters, used to eliminate popping sounds being picked up by a microphone. He explained that if you don't have a pop filter, taping an ordinary wood pencil in front of a microphone will work just as well, although it certainly doesn't look as professional as a real pop filter.
Glen Berg quickly showed us how to convert a cardboard toothpaste box into a nice looking tube carton and also showed how he had built a 1920's seashell style speaker. But Glen had also prepared a really good presentation on Phonograph Cartridge Repair. He had taken photos of lots of different cartridge styles, put together a couple dozen slides and used a projector to step us through the process of restoring a cartridge. Basically, piezoelectricity is created in certain materials when they are stressed, most notably in Rochelle salt crystals. Phonograph cartridges connect the mechanically vibrating stylus via a torque multiplier that provides some mechanical amplification, to a Rochelle salt crystal that converts the mechanical stress fluctuations into a small electrical signal. However, salt is very easily damaged by moisture, so crystal cartridges eventually fail when the aging protective tar coating covering the Rochelle salt crystal fails. Glen's technique is to use a good donor stereo cartridge from which two good crystals can be extracted. You need steady hands to do this since the parts are small and fragile. Glen showed how to open up a donor cartridge and carefully remove the crystals without damaging them or the fragile leads connected to them. He showed how to make tiny new rubber grommets from surgical glove rubber and new torque multipliers from a plastic Cool Whip lid. The guts of the old cartridge are removed, some parts are reused and the new crystal, grommets, and torque multiplier are carefully installed. Glen has successfully restored quite a few failed cartridges to good operating condition by using this method.
Next up was Matt Hyman with a short discussion about how he uses a garment steamer to straighten 1920's cone speaker wrinkled paper cones in just a few seconds. Another idea is to iron the cone with a steam iron. [Ed. Note: Someone asked where reproduction paper cones could be obtained. The best source is Buford Chidester. Buford and Jane Chidester wrote the book 'Classic Cones' and hand make accurate reproduction cones for most 1920's cone speakers.]
Dave Parenteau gave a presentation on the Hickok model 225 VTVM and is looking for a manual for the model 225K kit version of this VTVM. He specifically wants to know the calibration procedure for adjusting capacitor C3.
Bruce Hering, a long-time member from Waseca, Minnesota was next. Bruce has been researching the history, and collecting items, from Waseca's E. F. Johnson Company for many years and he presented an in-depth 60-slide history of the company and the radio products it produced. The Pavek Museum's newsletter for March 2015, Vol. 26, No. 1, documents the history that Bruce presented and they plan to post the presentation on their website soon.
Next up was Matt Hyman - again! This time he had an early 1960s seven-tube KLH Model Eight FM radio and Tivoli Model 1 AM/FM solid state radio made in 2000 and also designed by Henry Kloss and strongly resembling the vintage KLH Model Eight. These weren't rebuilt but both were in good operating condition so we listened to each and compared their sound. The consensus was that the Tivoli sounded muddy compared to the Model Eight and the Model Eight had better highs, so the Model Eight was the better sounding radio. Specifications weren't compared, but all that really matters is how they sound to our ears.
The final presentation was by Steve Raymer himself. Steve talked about Gary Steinbaugh's new book, Make Your Own Tube Testers and Electron Tube Equipment and Alan Douglas's 2000 release, Tube Testers and Classic Electronic Test Gear. They inspired Steve to bring out the Museum's rare Hickok 532 classroom demonstrator with four meters in the lid illustrating the patented Hickok circuit.
Thank you to everyone who gave a presentation, to Jeff Hed for taking photos, and to Steve for all the work he does organizing the workshop every year.