The
Northland Antique Radio Club

---
20th Annual Radio Workshop
Sunday February 3, 2008 at Noon


The years 1936 and 1937 were exciting times for radio consumers. The technology was at its peak, manufacturers were putting everything they had into their product, and it was one of the few industries that seemed immune to the unrelenting Depression.

Leaders in the race for technical superiority were the Radio Corporation of America and two independents: E.H. Scott and McMurdo Silver.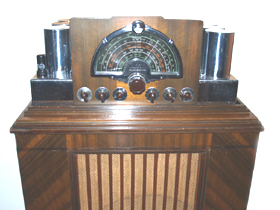 The rivalry between Scott and Silver was fierce. An open letter to McMurdo Silver from E.H. Scott dated October 7, 1936 highlights not only the bitterness of the feud, but the state of radio technology at the time.
The cause of Scott's pique was a harbinger of modern radio design, Silver's beautiful new Masterpiece V. With its large, colorful, backlit dial crowned by RCA's new "amplified and calibrated Magic Eye cathode ray tuning indicator," McMurdo Silver's newest creation made Scott's current production All-Wave 23 look like a Depression-era carryover.
Technically, the RF and IF circuits of the V were almost identical to McMurdo's Masterpiece IV, offering two selectivity options, broad or sharp. In the sharp position, three intermediate-frequency stages were employed. In the broad position only one IF stage was engaged.
The most outstanding feature of the V was its wonderful, 18-inch Jensen auditorium loudspeaker driven by a pair of the brand new RCA beam-power 6L6s. A built-in volume expander based on RCA's proven D-22 design completed an audio system that was absolutely the best that 1936 had to offer.
On February 3rd, 2008, Steve Raymer will lead us through an alignment and analysis of Bill Fraser's rebuilt Masterpiece V using Allen Lein's newest wobbulator and vacuum tube curve tracer. This should be an enjoyable, easy-to-follow demonstration with measurable results.
We welcome all Pavek sponsors and Northland Antique Radio Club members to bring in their recent finds to share with everyone during the open-forum part of the program. Matt Hyman has already promised to demonstrate his new Crosley CD burner.
The day begins with trunk sales outside in the parking lot, the Pavek "garage sale" opening at 11 AM, and then the program will begin at noon and should last about 2 hours. We look forward to seeing you!
Refreshments will be furnished by the Northland Antique Radio Club.
Admission is free to all current Pavek Museum and NARC members (and immediate family members). Membership forms will be available for anyone wishing to join the club.
The Pavek Museum of Broadcasting is located at 3515 Raleigh Avenue, St. Louis Park, Minnesota 55416.