.
Official website of the Northland Antique Radio Club (NARC).

Check back frequently for news of upcoming events!

Home Page
Club Information
Events
Contact Members
NARC Newsletter
NARC History
Interesting Links
Apply for Membership
Contact NARC
RADIO DAZE 2009 REPORT


By 5:00 PM on the evening of Friday May 15th the auction room was already packed. I knew we were in for a very busy evening. Radio Daze was off to a good start. There had already been good attendance at the Pavek Museum of Broadcasting's annual garage sale earlier in the morning, and now a great auction of old radio equipment was about to start! The room was filled with consoles, wood and bakelite table radios, boxes of tubes, paper, and everything else imaginable. Even a couple of Edison cylinder phonographs were up for sale. By the time the auction started, 236 items were consigned and 101 bidders registered, making it our biggest auction in almost 20 years!

At 7:00pm, master auctioneer, Ed Ripley, started selling. He did a great job with the help of Frank Rasada, Jim Thompson, Matt Hyman, Bill Linder, Mark Pysick, Bill Callaway, and Bill Fanum running items and holding them up for the audience to see and bid. There wasn't an empty seat in the house. But it appeared the bad economy had some effect on prices since some items went for the minimum bid of only $10 and some items didn't sell at all. Better items went for pretty good money, but some that had high reserves didn't sell. The high seller was an excellent 1940s Coca-Cola Cooler radio that sold for $500. Other lots that sold included several Emerson 520 catalin sets, a Majestic grandfather radio, lots of transistors, and even a Zenith tombstone that was a past Radio Daze raffle item.

Don Hauff, Kim and Lynn Wagar, Irene Jacob, and Mary Farmer managed the business end of the auction. They all pitched in to collect fees, and get buyers, sellers, and the membership registered. They worked like a well-oiled machine and made everything run smoothly. If Lehman Brothers had this crew working for them, they'd still be in business. And also thanks to Pam Orth, Eileen Sturzenbecher, Steven Farmer, and Sally Bohlinger for helping with security. Great job everyone!

The next morning was like waking up to late winter. It was windy with wind chills in the upper 20s. But the inclement weather didn't freeze the spirits of the swap meet sellers and buyers. The Comfort Inn's parking lot was even a little fuller than last year. A lot of people were carrying radios and related items and there was a lot of activity. It was a nice break to warm up in the hospitality room and munch on the snacks brought in by Aimee Sahlsteen.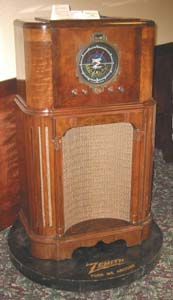 Zenith 16A61 Stratosphere



At 11:00, it was time to start taking radios into the conference room for the contest. A lot of great items showed up this year. The most crowded two categories this year were the transistor and tube radios with at least three bands, but one of the neatest entries to show up was a 1962 radio station advertising LP with DJ Ed Ripley's picture on the cover.

The star of the show was Alan Jesperson's 16 tube Zenith Stratosphere. It was stunning and 12 years in the making. It was found literally falling apart when Al acquired it. There were photos of the condition he found it in. Charlie Bradley had to disassemble and reglue the entire cabinet back together. He even made a few new parts. The result was very rare, beautiful work of art. Al rebuilt the chassis and had it playing. It was a real treat to see! Needless to say, it won both the Best of Show and People's Choice awards.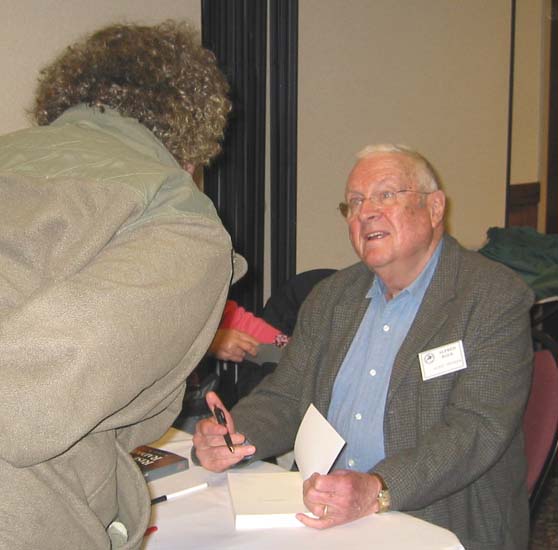 Alfred Balk at book signing



Next up, was this year's speaker, Alfred Balk. Alfred spoke about Marconi, DeForest, Armstrong, David Sarnoff and other inventors that he covered in his book, 'The Rise of Radio: from Marconi to the Golden Age', published in 2006. Balk's book debunks many of the legends that David Sarnoff perpetuated about himself and his role in American broadcasting, along with other myths concerning DeForest and Armstrong. After he was done speaking, Alfred answered questions of the audience and later sold out autographed copies of his book that he had brought along. The meet ended with our usual abundance of door prizes, thanks to the Wallace family.

Thank you all for coming!